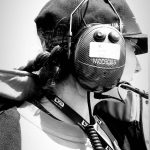 Alexandra Romero Garcia, Bachelor of Social Science (B.Soc.Sci.) joined RPE as Director & PR in January 2019 and is since October 2019 full-time involved in leading the company's daily operations. She focused her career in the education and sport sector and got involved in the motorsport business when meeting Christian. After 10 years of experience as lecturer, RPE discovered that her knowledge based in the pedagogy, psychology, methodology and organisation next to the ability to speak and understand different languages makes her best suitable to be part of a business management team.
Alexandra is looking forward to learn more about motorsport and become more active in the work with customers.
EDUCATION
2011-2015: (Dipl.- Soc. Sci. (UVIGO)) Bachelor's Degree in Early Childhood Education & PE, Science of Education and Sport University (UVIGO), Spain. Specialisation: Physical Education
QTS (nº 1743449)
2009-2011: Higher Technical Degree in Animation of Physical and Sport Activities, As Lagoas College, Spain
Complement:
Composite Technician / Laminator Support, ByKolles Racing, Germany
Lifegard & First Aids Course at As Lagoas Colleage, SP (updated in UK)
Civil Protection Basic Course at AGASP
RELEVANT SKILLS
Language: Spanish (native level), Galician (native level), English (C1 level), German (A2/B1 level)
Computer Software: Microsoft Office (Word, Excel, PowerPoint, …), Adobe Photoshop CS, Adobe After Effects, Sketshup, Imovie, Ardora
Data Analysis: PI Research / Cosworth Toolbox
Financial Tools: Pandle, Xero
EXPERIENCE
2020: Trackside & Storage Manager, Allied-Racing, Germany
Trackside & Storage Manager of Allied-Racing for the ADAC GT4 Germany and 24H Nuerburgring. Responsible for trackside organisation and management including race control communication as well as damage documentation.
ADDITIONAL INFORMATION
Keep the organisation of the company: Schedules, Flight bookings, Racing & Testing calendar, Appointments, Support in the organisation of RPE customers if required 
Finances and keep records of the company working beside the RPE accountant, Send invoices to customers and make sure all RPE employees get their invoices paid on time
Detection as well as solution of problems, Support of the engineers and customers in the busiest times of the year to find a solution to their problems in terms of organisation, team work, finances, etc