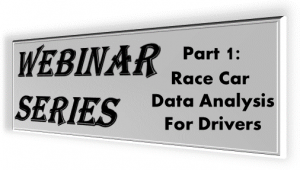 Introducing Part 1 of RPE's Webinar Series in Race Car Data Analysis!
The ongoing international situation forces everyone to stay home as health and safety do count most. In times of social distancing where race events cannot take place, sim or online racing becomes a huge trend and even real-world racers take the opportunity to keep themselves in practice for the time when real-world racing will resume hopefully as soon as possible. RPE took the current trend as perfect opportunity to introduce part 1 of its new webinar series which aims on teaching basic and advanced race car data analysis skills and knowledge to drivers.
Successful first webinar: A total of three race drivers took part at the first online course in basic race car data analysis and afterwards, they did directly sign up to the advanced course! The basic lecture is created for all drivers from amateur up to professional level and covers all fundamentals a modern race driver needs. It is a mix between taught and practical modules teaching basic physic and setup knowledge keeping those as simple as possible in combination with analysis examples and exercises using video and logged race car data. The advanced course then drives the analysis topic one step further discussing specialised math-channels to effectively work on driver performance improvements as part of teaching more advanced techniques and setup knowledge.
Course overview for race drivers:
"Basic Course in Race Car Data Analysis for Drivers"
"Advanced Course in Race Car Data Analysis for Drivers"
Both webinars include their individual course document which can also be purchased separately. If you are a real-world race driver, sim racer or want to become a driver please do not hesitate to contact us at christian@r-p-e.racing or +44 (0) 788 1911180 for more information, pricing including possible discounts and individual package options! RPE wishes you all the best and hopefully we can start to slowly go back to normality soon, but for the moment stay home.
"It is not always possible to be the best, but it is always possible to improve your own performance",
Sir Jackie Stewart, 3-times FIA Formula 1 World Champion